Everyone hates interruptions in every kind of work, either personal or professional. Such disruptions in the form of Jio full-screen Ads on your Android device leads to disturbance in work. And we are sure who else doesn't want to get rid of such Ads permanently as they somehow waste your time.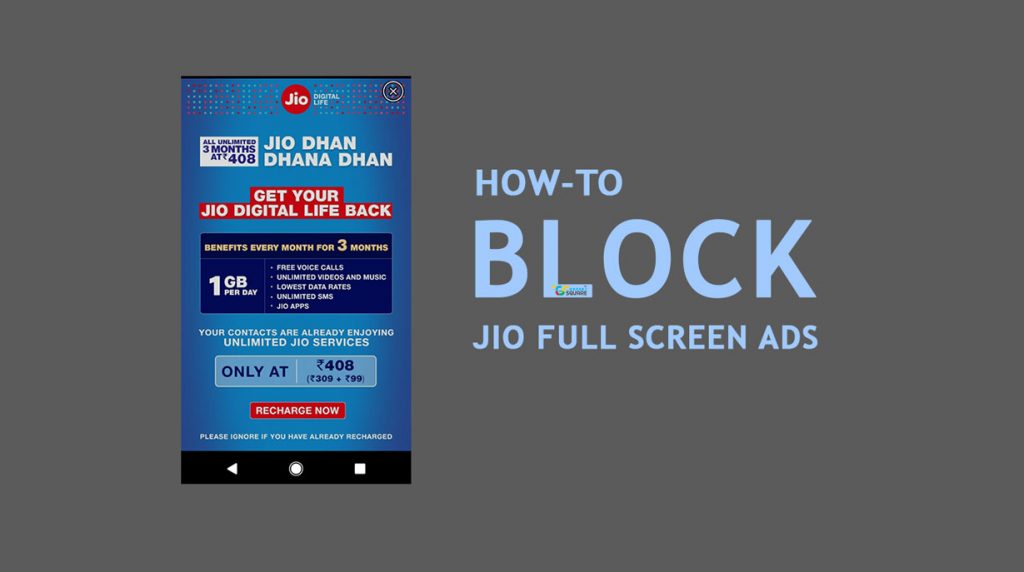 With the eye-catching offers from Jio, We guess almost every person nowadays uses Jio services. But along with the attractive services of Jio, the one of the annoying issue it gives is the bundle of full-screen Ads striking at your device in the mid of any critical task. Doing something meaningful and get hindered by something irrelevant is quite a common issue among Jio users. So, how to stop this obstruction is undoubtedly what all the Jio users want to know. We hope you will continue to read this article to get the right solution to this problem.
Methods to block Jio Ads
#1 – Disable Permissions Given to all Jio Apps
All you need is a long press on Jio apps and tap on the info button, then go to Apps permission and uncheck all the checked options as well as turn off the draw over the apps permission.
#2 – By Using Greenify App
Install the Greenify App in your phone and select all Jio apps in it. All the Jio apps will be automatically stopped from running in the background, which prevents any Ads in your device.
#3 – Turn off Data Access
One of the easiest ways is to Go to Data and turn off the data access to all installed Jio apps in your device.
#4 – Install AdAway and Root Your Phone
It is the method that blocks access from specific IP addresses and hostnames. Make sure that you know how to root your phone as it is recommended to experience one only.
#5 – Uninstall All Jio Apps
Directly uninstalling all the Jio apps will make your device free from such irritating Ads.
#6 – Contact Customer Care
The very last method is to dial customer care number (1800 889 9999) and request them to disable all the Ads appearing on your Android device. Jio team will stop all such Ads after asking your IMEI number.
Try out any above mentioned suitable method to get rid of unwanted Jio Ads. To avoid any disturbance in your work, I hope this article will help you to get a solution to this issue of an irritating hindrance and helps in saving your time as well.