Ubuntu, a Linux-based operating system will now be available for download from the Windows 10 app store. It is now available for all those people who have signed up for the Windows Insiders program of Microsoft. The distribution of Ubuntu could be directly downloaded from the Windows and can be installed right alongside your Windows 10 operating system.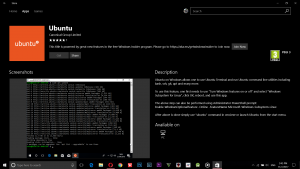 However, this does not install Ubuntu in the old fashioned dual boot format where you have to select between Windows or Ubuntu while booting your computer. And once you choose which operating system you want to boot with, you can never go back to the other unless you restart your system.
This new update installs Ubuntu in a sandbox way, which means you can run Ubuntu and Windows simultaneously on your PC. It is like running two different apps simultaneously on same machine. But keep in mind that this is also not simple as it sounds because you still have to modify some settings like turning on or off the Windows features and selecting the Windows subsystem for Ubuntu.
Still, this feature is much easier than having to go through the tedious process of setting up and installing dual operating systems on your PC and laptops. The best thing about this update is that you can access all of your files across both the operating systems. While the update is currently available only for the insiders, it is soon expected to roll out to all audience.