Since you are here it means you already have a Roku device and planning to add Pluto to the channel list. Then you are in the perfect place to know how to watch Pluto TV on Roku. In this article, we are going to look at the process of installing and activating PlutoTV on your Roku device. There are other ways to do this but here we are discussing the simple one.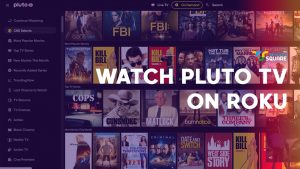 Must See: How to watch NBC on Roku
Roku is a digital streaming device that allows you to download and access/manage multiple streaming services and control all of them in one place. Currently, Roku has become a trendsetter. If you ask what are the benefits of owning Roku then here there are many including Minimalist UI, easy control, access to almost all the channels, a wide variety of products, and the list goes on. Currently, Roku is officially available in USA, UK, and Canada, and they trying to expand to other regions too.
Pluto is a streaming platform owned by paramount globals that gives access to TV shows and movies for free. Pluto TV provides live video streaming channels and on-demand programming from networks such as Comedy Central, AMC, Nickelodeon, and MTV. They are available in almost all the devices currently out on the market. Let's look at the downside of this platform. Yes, they do show ads and there are subscriptions available for ad-free content also no HD contents are available.
How to Watch Pluto on Roku
Currently, Pluto is available on all the Roku devices so there won't be any compatibility issues. Make sure you have one of the latest versions of the Roku. Also, make sure you have connected to the internet during the process. There are many other ways to do this but this is one of the popular and simpler ways. Follow the guide till the end to complete the task without any confusion.
Steps to Install Pluto TV on Roku
Complete the initial setups like device preparation and connecting to the internet.
Press the Home button on the Roku remote
Roku home screen will pop up.
Select the Streaming Channels option.
Select Search Channels.
Type Pluto TV.
Select Pluto TV from the poped list.
Go to the app info section.
Click on the Add channel.
The app will be added to your channel list.
How to Activate Pluto TV on Roku
Open the Pluto TV app on your device or open it on the web.
Log in to your account.
Note down the activation code that appeared on the screen.
Open Pluto website (my.pluto.tv) from another device or web browser.
Enter the activation code.
Select your device.
You are good to go.
Pluto TV FAQs
Is Pluto TV entirely free?
Yes, Pluto TV is entirely free and you can easily watch it on Roku.
Is Pluto TV legal?
Yes, Pluto TV is legal.
Does Pluto TV have a premium subscription without ads?
Yes. It starts from $4.99/month.
Is pluto available in all the regions?
No. Currently, it is available in Australia, Europe, the UK, and Canada.
Does Pluto support VPN?
Yes, it is available via VPN. You can check the best VPNs for Roku.
In the world of paid subscriptions, there are hardly a few platforms that offer content for free. And Pluto TV is one of them which stands out from the crowd. And it is undoubtedly one of our favourite and easily recommendable ones. It covers most of the shows everyone needs. And also the appreciable factor is the decency they maintain in ads even though ads are their main source of revenue. And we are pretty sure that Pluto can be a perfect alternate for some of the other paid streaming platforms too. If you are like us who prefer quality products over unnecessarily hyped stuff then you will definitely like this.
We hope you have successfully enabled Pluto on the Roku device using our guide. If you have any queries while following our guide to watch Pluto TV on Roku, then do let us know via the comments below and keep following us for more content like this.