Making a visit on various renowned benchmarking website by a device before its announcement is a long followed tradition. Similarly, the much anticipated Galaxy Note 8 has already popped its head on GFXBench just few days ago. Now, the successor of last years ill-fated Galaxy Note 7 was seen in AnTuTu – an another benchmarking website.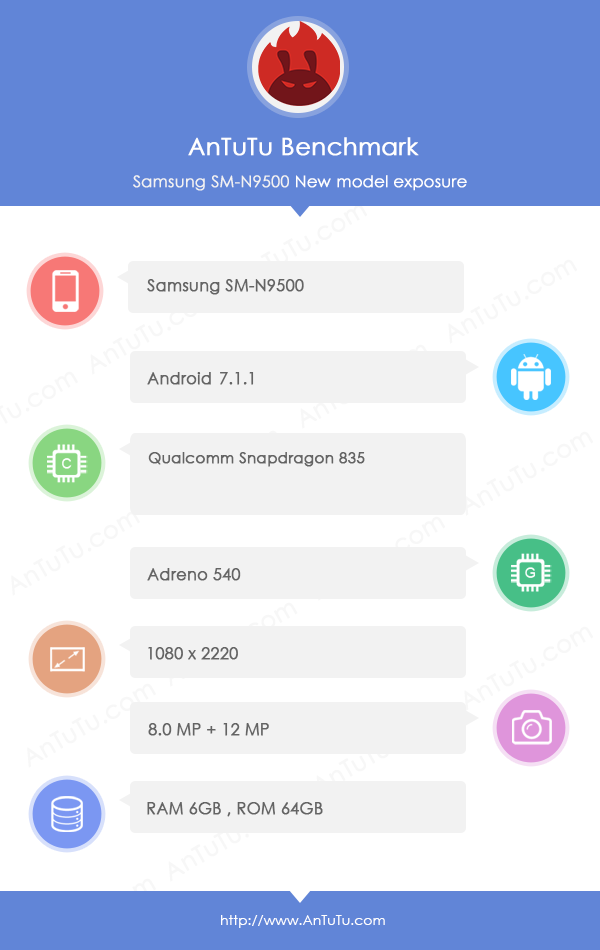 Certain specs and features of the upcoming phablet – Note 8, could be deduced from the benchmark result. As expected the benchmark result obtained from the AnTuTu differed in some aspects to that of from the GFXBench. This anamoly in the result, clearly indicate us that the benchmarking can be spoofed. And to take any benchmarking results with a pinch of salt.
However, AnTuTu reveals the following things about the Galaxy Note 8:
According to the listings Galaxy Note 8 with model number of SM-N950. It features Qualcomm Snapdragon 835 Mobile Platform. The same SoC seen in Samsung's last flagship Galaxy S8 in U.S market. Surprisingly, AnTuTu details the resolution of the Note 8 to be only 1080 x 2220 FHD display. Contrary, to the much expected QHD+ display that was suggested by most of the leaks and unofficial sources so far.
Coming to the camera section it features a single 12MP primary camera and an 8MP secondary. Again,no mention of dual-camera setup as on the GFXBench.
Galaxy Note 8 will be unveiled at a special event to be conducted in New York city on August 23. Samsung has already made preparation for the event by inviting press officials and all. Anyway, the Galaxy Note 8 launch will mark a major milestone in the Samsung history. Especially for its Note series as far as the last year's Note 7 debacle is considered.