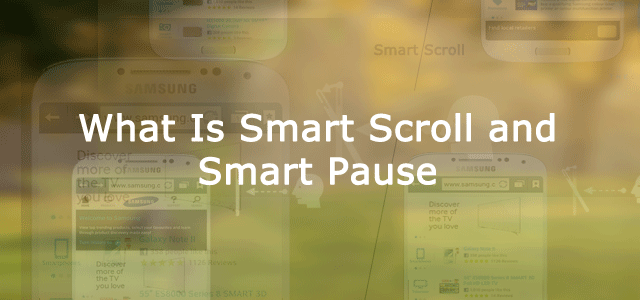 As we all know that Samsung has launched its new flagship device – Samsung Galaxy S4 last week at the Times Square  in the New York. Before announcement several rumors were passed on stating everything about devices from its Specs to design. But no one got or mentioned Samsung new smart technologies that they have embedded in the Galaxy S4.
Additionally, Samsung Galaxy S4 is the fastest smartphone as according to benchmark scores. There are several features in the Galaxy S4 which makes it much smart than other smartphones and today we gonna talk about it. One of the best smart feature I liked on Galaxy S4 is Smart Pause and Eye Scroll which help users to browse or watch content without touching. So let's start with:
Samsung Smart Pause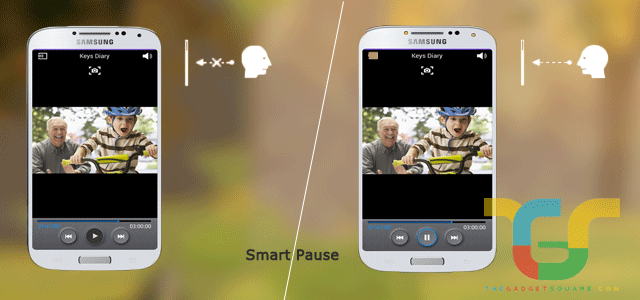 Samsung has launched this feature with Galaxy S4 to improve device interaction with humans. Smart Pause feature pauses the playback of videos if the it detects that the user has been looking away from the display. In other words Smart Pause technology detects your eye movements to intelligently stop video when your gaze turns away from the screen.
How Smart Pause Works?
This technology uses eye tracking sensors to detect when you're looking away from a video, pausing it accordingly.
Is it Useful?
I think it will not be useful for many of the guys out there. Giving example – If you watch something with a friend than it will automatically turn off screen as your device position be centered and and eye tracking will not be able to track your or friends eye.
Samsung Smart Scroll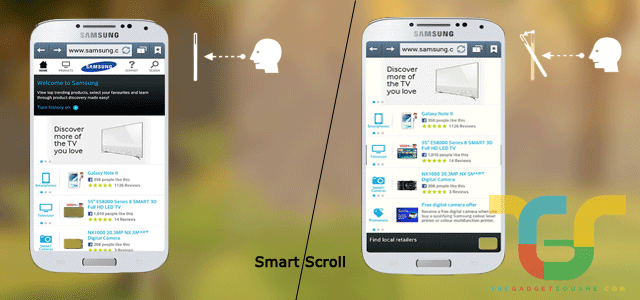 Samsung Smart Scroll technology is also present in the Galaxy S4 which recently announced last week. Eye Scroll lets you page up or down by tilting the Galaxy S4 in the corresponding direction.
How Smart Scroll Works?
AS mentioned above it will allow users to scroll down the phone even without touching the phone. It will come into work when user will be watching phone data or reading internet pages. While reading when user will come to bottom of the display and when the phone is moved through slight angle, it will automatically scroll down. Similar working is obeyed while scrolling up.
Is it useful or not?
It seems to be much useful than Smart Pause.
Along with these features, Samsung has also bolted Galaxy S4 with many other features also but these are highly sensitive ones. Both above mentioned features has been added to take the video watching and reading experience to a new level.
Additionally, Samsung Galaxy S4 is powered by Exynos 5 Octa processor with 2 GB of RAM. It is running on Android 4.2 Jelly Bean and is bolted with a 13 megapixels resolution camera on the rear side and is having 2 megapixels resolution camera on the front side.
It will hit the stores for sale next month in over 155 countries.