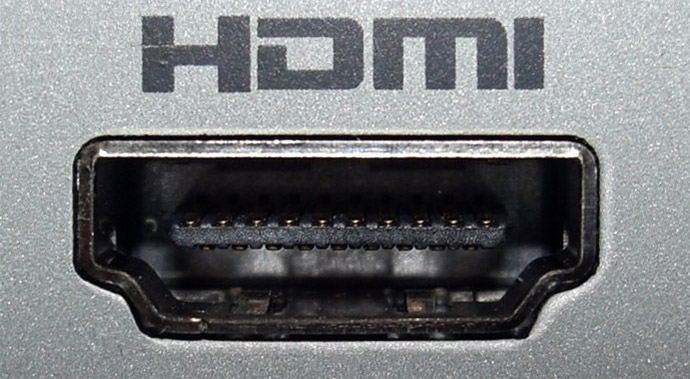 HDMI is High-Definition Multimedia Interface, describes a new kind of cable for hooking high-definition TVs to things like cable boxes and DVD players. HDMI is a type of digital connection that's capable of transmitting high-definition video and high-resolution audio over a single cable.
History of HDMI:
HDMI is founded by Hitachi, Matsushita Electric Industrial (Panasonic/National/Quasar), Philips, Silicon Image, Sony, Thomson (RCA) and Toshiba. Its development was started April 8 2003 and its first Authorized Testing center was opened in California, US. Thereafter several new ATCs were opened in several countries like India, China, etc.
HDMI products started shipping in autumn 2003. Over 800 CE and PC companies have adopted the HDMI specification (HDMI Adopters). HDMI began to appear on consumer HDTV camcorders and digital still cameras in 2006. Shipments of HDMI are expected to exceed that of Digital Visual Interface (DVI) in 2008, driven primarily by the Consumer Electronics (CE) Market.
In 2004, HDMI devices sold was 5 million in 2004, 17.4 million in 2005, 63 million in 2006, and 143 million in 2007 and sales grew year by year.
How's HDMI is Different From Other Connectivity or Cables?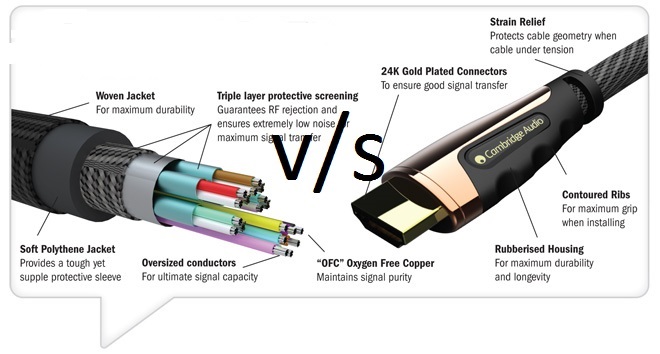 HDMI can handle high-definition video of up to 1080p resolution at 60 frames per second, which is the most bandwidth-intensive video format currently available. HDMI can be adapted to DVI (Digital Video Interface), via adapter cable or connector. However, the device that has the DVI connection must be HDCP enabled for the signal transfer to work. It also supports eight channels of uncompressed audio, enough for a 7.1 surround-sound system.
Detailed Video Format Support:
Video Formats – HDMI supports any format in the CE industry (PAL, NTSC, ATSC etc.)
Highest Resolutions – The highest resolution that the new HD DVD and Blu-ray movies will offer (up to 1080p) is fully supported in HDMI. Due to the extra available bandwidth, even higher resolutions are supported (1440p)
Colours in the billions – Up to 48-bit support for RGB and YCbCr makes way for over 1 billion colours. (48-bit support was added in HDMI 1.3)
Refresh Rate – Up to 120 Hz
Detailed Audio Formats Support:
Uncompressed (PCM) – PCM audio up to 8 channels at 24-bit sampling rates at a frequency of 192 Khz.
Compressed – Supports all the usual compressed formats; Dolby Digital 5.1 – 7.1, DTS etc.
SACD – HDMI supports up to 8 channels of one-bit audio used on Super Audio CDs.
DVD-Audio – Supports DVD Audio content since HDMI 1.1
Lossless – HDMI supports Dolby TrueHD and DTS-HD Master Audio
Due to its these superqualitiies HDMI is on top of all cables or interfaces. If you need to do things at this high reolution and 8 Channel Audio Quality than you need multichannel analog audio cables, but you'd need to run as many as eight separate cables to get the same quality.
Types Of HDMI:
Currently there are 6 types of HDMI versions:
HDMI 1.0
HDMI 1.1
HDMI 1.2
HDMI 1.3
HDMI 1.3a
HDMI 1.4
Different HDMI Cables:
Standard HDMI Cable – up to 1080i and 720p
Standard HDMI Cable with Ethernet
Automotive HDMI Cable
High Speed HDMI Cable – 1080p, 4K, 3D and deep color
High Speed HDMI Cable with Ethernet
Different HDMI Plugs Connectors:
Type A: consists of a 19-pin connector.
Type B: 29 pins connector.
Type C: 19 pins facilitate the three high speed TMDS channels, the TMDS clock channel, DDC channel, CEC Channel, a 5v power supply and hot plug detect feature.
Type D: 19 pins of types A and C but shrinks the connector size to something resembling a micro-USB connector
At The End:
As technology is developing at great pace so HDMI i also developing. We hope HDMI will become more standard connection option with increasing capabilities. Eventually, the cable jungle behind your home theater system will disappear, as all the audio and video cables are reduced to one HDMI cable between each component for both audio and video.