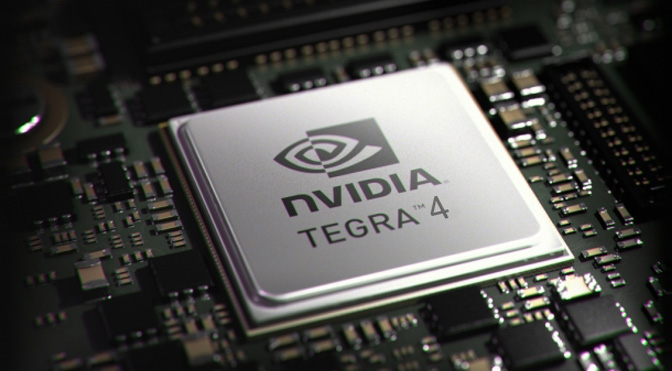 So as we know today NVIDIA announced its new Tegra 4 Processor at CES 2013 in Las Vegas. Its claimed to be the world's fastest processor by NVIDIA. Tegra 4 processor is designed and built in order to give lightning-fast web browsing, stunning visuals and new camera capabilities through computational photography.
Currently its not clear on which device its its coming but we hope it will soon hit devices.
How's Tegra 4 Faster Than Others?
This is the big question that how's this processor is different from others? Let make it clear, ARM's quad-core Cortex-A15 processor based NVIDIA Tegra 4 has 72 individual Nvidia GeForce graphics cores based on on the 28nm process.
In order to prove it NVIDIA showed off the chip's graphical powers by having a Tegra 4-powered device push 4K-resolution video to an Ultra HDTV.
One more demonstration was given in order to prove Tegra 4 superiority, Huang CEO NVIDIA, compared a Nexus 10 tablet, against a Tegra 4-based tablet. The two tablets were set to load 25 high-traffic web sites: the Tegra 4 did it in 27 seconds and the Nexus 10 tablet in 50 seconds.
Tegra 4 is based on 4-plus-1 arrangement that of its predecessor Tegra 3.
Earlier we saw various companies launched different variants of their devices for US due to Tegra 3 incompatibility with 4G LTE network. But now problem is solved as Tegra 4 is fully compatible with 4G LTE.
Despite its power, its also energy efficient than Tegra 3 since it has the same architecture, with a fifth core that helps regulate energy use. With its power-efficient design, the Tegra 4 is said to enable up to 14 hours of video playback on smartphones.
Features of NVIDIA Tegra 4:
GeForce GPU with 72 custom cores
Quad-core ARM Cortex-A15 CPU, plus a 2nd Generation Battery Saver Core
Computational Photography Architecture
LTE capability with optional Icera i500 chipset
4K ultra-high-def video support
As discussed in beginning Tegra 4 also introduces new computational photography architecture. It improves image processing upto 10 times faster than old platforms. Huang, also demoed this feature to create an HDR instantly by capturing two images at exactly the same time. NVIDIA describes it as:
Among the Tegra 4 processor's breakthroughs is its Computational Photography Architecture, which automatically delivers high dynamic range (HDR) photos and video by fusing together the processing power of the GPU, CPU and the camera's image-signal processor.
That's it. Stay connected with us for more news about it in upcoming days.