This time we are here with Nokia Lumia 625 Review carrying the magic of mystic Windows 8 Experience. Its been now only a few years since the launch of the Windows Smartphone but until now they have got many sales. We can say much then expectations due to lag free experience unlike Android which mostly lags due to its customizations.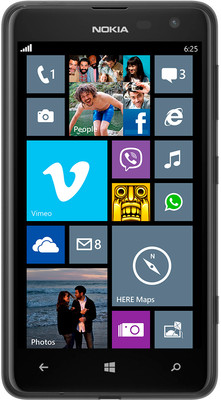 As according to our experience  with the Nokia Lumia 625 it seems that Windows Platform currently is not ready mainly for Geeks and gaming users(partially). Its a tip that not to go for Windows phone until you don't want any these features. If you want lag free device and simple User Interface then you should try Windows Phone as it offers pretty simple and awesome enhancements and features with great speed and accuracy.
Now small briefing about the Nokia Lumia 625 before heading for full review. Its Elegant device at low cost or in budget range. Its design is simple as like its User Interface on sharp and crispy display. Its bit round from the edge with the thickness of around 9.2 mm and speaker on the backside on the bottom with the camera on the top backside with the flash by the side. Here we are starting the Review of Lumia 625 with
Hardware Specifications:
Nokia Lumia 625 is packed with Qualcomm MSM8930 Snapdragon Dual Core 1.2 Ghz krait processor with 512 MB and 8 GB internal memory on board. Its external memory slot is upgradable upto 64 GB microSD card. In order to boost gaming experience Nokia has bolted an Adreno 305 GPU to process heavy graphics. While reviewing we played lot of games and we can say it do not freezes while playing heavy graphical games like Asphalt 8.
On order to make your device smart its embedded with some sensors like Accelerometer, proximity and few others. It operates on GSM 850/900/1800/1900, 3G 900/2100, 4G frequencies.
Software: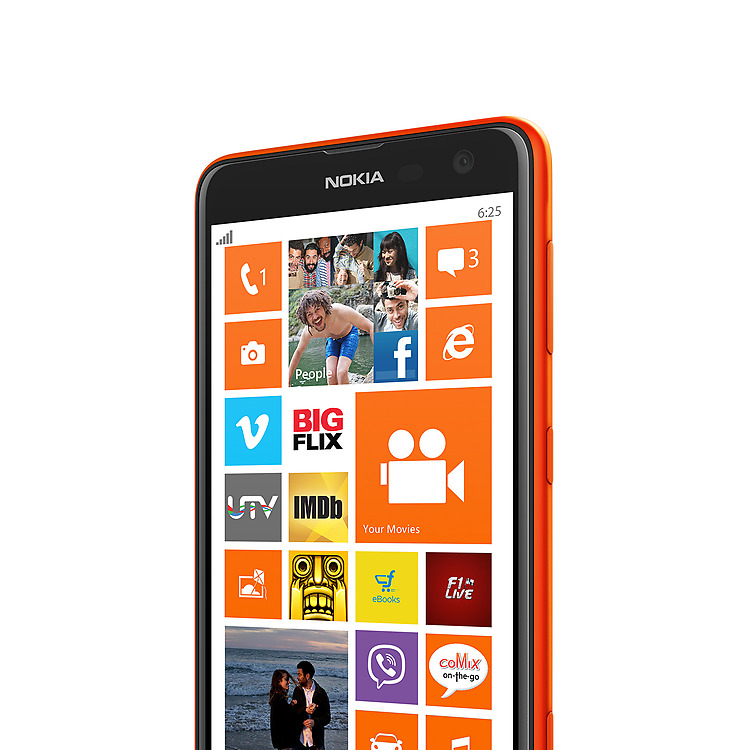 Nokia Lumia 625 comes pre installed with Windows Phone 8 and is now upgradeable to Windows 8 Black. In the operating system you will first met with the lockscreen and then with the Start Screen including the Windows 8 tiles. You can customize tiles as according to your need with different colours and even you can resize them to different sizes. Overall Operating system, Windows 8 Phone is doing awesome work on the Lumia 625 as there's no lag while doing any stuff.
Design and build: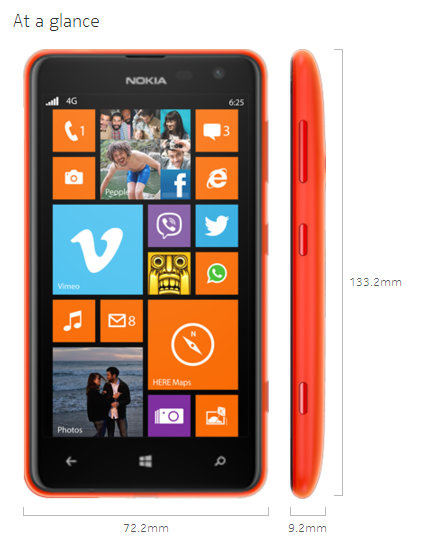 Overall design quality is pretty hard and well. Its has rounded corners with slight bulged outwards on the backside. The phone is largest Lumia Nokia has built, at 5 inches tall with a 4.7-inch screen. The dimensions of 133.2 x 72.2 x 9.2mm make it the longest and widest Lumia on the market, though it's actually quite thin. It's not the thinnest, or the lightest, at 159g (5.6 ounces), but it's well-balanced and contoured. It has a single speaker on the backside in the bottom of the phone also 5 MP camera along with flash is placed on the backside of the phone.
Display:
Lumia 625 primarily contains the 4.7-inch 480 x 800 IPS LCD display, with a pixel density of 201 pixels per inch. While reviewing we found that its Display brightness is slightly lower than other devices. It provides you soft and crisp details on the display. In direct overhead sunlight, the screen is tough to read and reflects a lot of light. If you look at screen from different angles then everything is visible from every side or angle of the phone. Overall its the only con we have met while reviewing the Lumia 625.
Camera:

The Lumia 625 has a 5-megapixel camera, with an f/2.4 lens and small companion LED flash, and Nokia's impressive Smart Cam app. You can change the ISO, white balance, exposure value and aspect ratio, but there aren't any effects.Also it can record 1080p video at 30fps.
Overall if we compare the device with its price then its a useful and must try device as it does not lag in-between and also provides simple look for usage. IF you are looking for a lag free device and which can also give you good feel then you can go with the Nokia Lumia 625.
Also there's a good battery backup even if you do some heavy loading stuff on the phone.
You can buy the Nokia Lumia 625 via Flipkart and Amazon.
Also Checkout our review of: HTC Windows Phone 8S Review