We are pretty familiar with the Image tab in the search result of Google, along with other option such as Videos, Maps etc. Google has now come up with a new algorithm for its Image Search option. Surprisingly, the search-engine giant has added extra capability to its Image search function.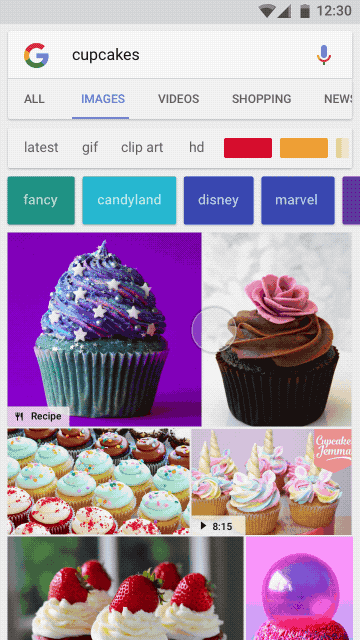 Following the path of Pinterest which had already updated its app with a modified visual search. Today onwards, Google's image suggestion will consists of photos, videos, gifs, recipes etc, related to your search data all mixed up in the Image tab. Don't worry, Google has also provided a small banner under the image thumbnail to distinguish the type of file data (gif, video, recipe) hidden under the thumbnail. So in short, image result will be categorized such as gif, videos etc based on the data Google contains.
The upgradation provided by Google in its Image search is Somewhat similar to the modification done by Pinterest in its visual search feature.
Google described its new feature in its webblog by quoting "Badges on Image Search help users find what they really want". By this, it's clear that Google want the users to find all the possible results for what they search, without much complications or further inputs.
Any Demerits ?
Although, the feature seems to be pretty good and welcoming. It may create a nuisance for some users, who prefers only photos as the output. And also, since it's a new feature people will take some time to adapt. But, probably will like it.
If you are confused, and have some doubts regarding the feature. Ask directly to the Master Google in its Webmaster Help Forum.