Are you bored of your default keyboard ? And want to try a new one. Irrespective of stock Android or custom OEM keyboard your device posses at default. Don't worry, Play Store has got plenty of third party keyboard apps you may like. And, can be installed hassle-free even without root access. Here, we have provided some of the best keyboard Apps which are worth trying. Have a look at our list:
SwiftKey Keyboard
Availability: Free
The highest rated third party keyboard app in Google Play Store. Available for free, will be a good default keyboard replacement.
The keyboard which is seen preloaded in Xiaomi devices, cater features that are unavailable in the stock keyboards. Accurate and precise AI powered prediction is the main highlight of the Keyboard. other features include:
Swipe-to-type with SwiftKey Flow.
Auto correction.
70+ colors, designs and themes.
Emoji keyboard.
150+ languages bilingual auto correction.
and more
GBoard
Availability: Free
GBoard or the Google Keyboard was available in the Play Store just recently. And, it has now become the favorite keyboard among Droid users. Available for iOS devices long back and the stock keyboard of Pixel phones.
Integrated Google search, Google Voice and Google Translate options, are that makes G board unique from other keyboards. Other features include:
Glide Typing – Type faster by sliding your finger from letter to letter.
Voice typing – Type using your voice.
Search and share anything from Google: – Press on G to search and share:
• Nearby stores and restaurants
• Weather forecasts
• News articles
• Sports scores
• And anything else you'd search on Google
Emoji Search – Find an emoji, faster
GIFs – Search and share GIFs.
Multilingual typing – Switching between languages with ease.
Google Translate – Translate as you type.
Google Indic Keyboard
Availability: Free
If you are a linguist and plays with different languages especially Indian. Then the below keyboard serves you best. Supporting 10+ Indian languages and with enough features. Google Indic Keyboard destroys all the language barriers.
Supports devices running Android 5.x and newer, works just fine as a daily keyboard. Various modes present in the keyboard enhances its utility. Some of its modes are:
Transliteration mode – Get output in your native language by spelling out the pronunciation using English letters (For example, "namaste" -> "??????".)
Native keyboard mode – Type directly in native script.
Handwriting mode (currently available for Hindi only) – Write directly on your phone screen.
Hinglish mode – If you choose "Hindi" as an input language, the English keyboard will suggest both English and Hinglish terms.
Kalq Keyboard
'Qwerty' is the modern keyboard layout we use in PC's, Laptops, Smartphones etc. Even, around two decades after the invention of 'Qwerty'. No new keyboard layout was powerful to outperform Qwerty. But, it looks Kalq Keyboard may be the kaal of Qwerty. Let us look what exactly is the Kalq!!
Availability: Free (Beta)
Invented by some of the researchers of Max Planck Institute of Informatics, Montana Tech and University of St. Andrews, is destined to take over the Qwerty legacy.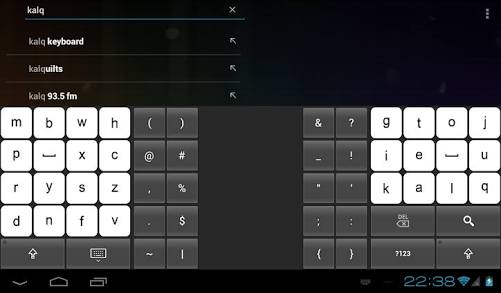 Being, the world's first new and smart Thumb based keyboard for touch screen devices. The developer of Kalq claims that the Kalq provides more than 30% higher performance and accuracy than Qwerty.
The app is now available as beta in the Play store. Whether it can replace Qwerty from our keyboard is a matter to be looked upon.
Above provided keyboard apps are listed as Best based on our research and thoughts. If you may find other keyboard apps apt in the above list, do let us know.