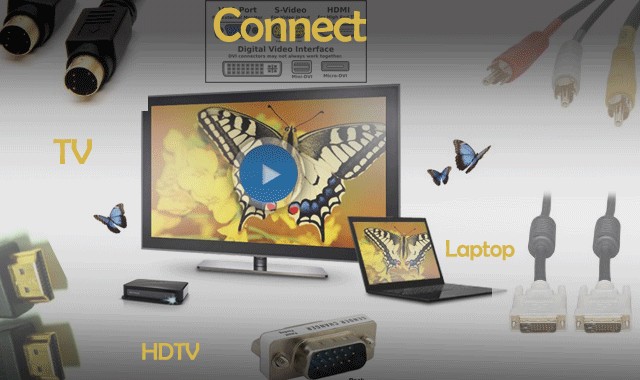 Laptops, an essential part of today's lifestyle to get connected, to do work, to play and for many other daily activities.  But there's main advantage an? or sometimes you huddled around your laptop with family and friends trying to view vacation photos on its small screen? or you want your Youtube videos on your TV screen? Now you not need to worry about these things as today we going to tell you how to connect Laptop to a TV set.
Before heading ahead checkout what type of ports your devices have (on both laptop and TV set) aka its a VGA, HDMI, S Port, RCA Stereo Audio & Composite Video ports or any DVI Port? We have attached image below indicating type of video ports. Depending on the ports you will have to buy that type of wire. Checkout the image below:

Connect Laptop to a TV Via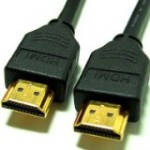 Use a simple HDMI cable to connect your laptop to an HDTV. Until now its been the best connectivity to transfer media from one to another device. Despite its HD video it also offers Dolby digital 5.1 audio sound. If your laptop have HDMI port and same as on TV also than you need to buy single HDMI cable to connect your Laptop to a HDTV. If your laptop do not have HDMI port  than you'll have to get a converter to go from the 15 pin DVI cable to HDMI. Buy HDMI cables and Convertor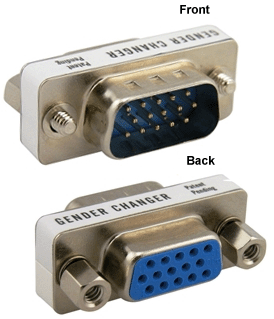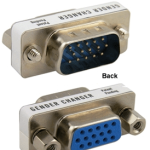 VGA Cable
From long times VGA has been the standard connectivity type between two devices. If your device have VGA port than you can connect using this type of connectivity. On laptops this port was usually built for projector or monitors but we can use it to connect it to standard definition or High Definition TV. You can buy VGA Cable From Here
.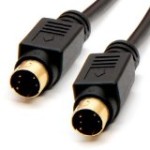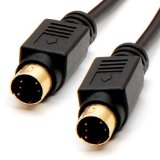 S Video
It also an old connectivity but via this connectivity you can connect your laptop directly to the TV. Super Video is not the best but its also not the lowest. These cables are round, with either four or seven pins. To get audio signal you need to connect different or separate cable. If you have DVI or HDMI port then do not use S Video Connectivity as it is not suitable for transferring Audio signals. Buy S Video Connectors and adaptors
.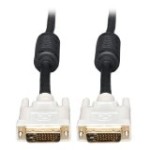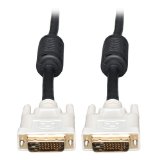 DVI
Digital Video Interface is used in monitors since 2003. You need to buy DVI to DVI cable or DVI to HDMI if have suitable support on either of devices. If you want sound with a DVI connection, you will need a separate audio cable. Shop for DVI connections and adapters
.
RCA or Composite Connection
These are typical 3 cable connections and colored as red, yellow and white. From which red is right analog audio, and white is left analog audio. Its the lowest quality connection. Head over to buy RCA Cables
.
Additional Information If Both devices have different ports:
If your both don't have same type of port than you need to use adaptors or convertors or connectors to convert one type of port signals to another. For eg: a DVI-to-HDMI adapter, DisplayPort-to-HDMI adaptor and many others.
So guys now if your cables or connections are correctly seated and ready to connect then just head over to your Laptop/PC panel. If you are using Windows 7, press the keyboard shortcut Windows + P to quickly access the display settings or search for "Connect to External Display" in the Windows Run box.
Now switch to TV's or HDTVs external input, if all things are correctly joined then you will see your laptop's display on your TV.
Finally its done from here.
Note: If the picture appears distorted, you can change the screen aspect ratio and resolution with the Display Settings in the Control Panel of a PC laptop. Mac laptops automatically adjust these picture settings. Also after inserting all wires restart your PC or Laptop.
Have any problems? Comment below we will resolve it for you. Stay connected with us.
Also checkout our guide to backup your laptop drive.