Snap Inc. has announced 'Snap Spectacles' back in the month of September last year. The Snap Spectacles were available to buy from Snapchat official store only. However, in latest the spectacles are now available to from the third-party retailers too. The big shopping giant, Amazon lists Snap Spectacles for $130.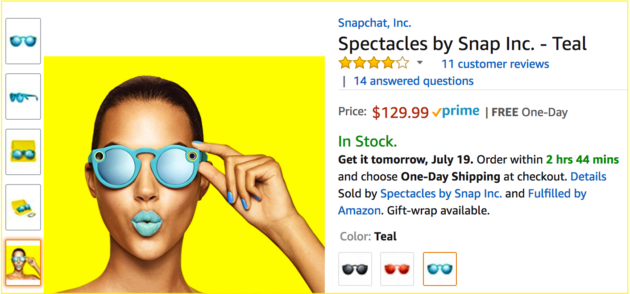 Amazon has listed Snap Spectacles on its website in black, coral, and teal color variants. Amazon Prime members will get the glasses delivered for free within two days. However, in select metro areas some customers are eligible for free same-day delivery.
Spectacles are Snap incorporation's first hardware product and became very popular in the last fall, when Snapchat rebranded itself as "a camera company." Snap Spectacle are the glasses which are capable of recording short 10- to 30-second video clips, at randomly chosen locations.
The product was initially available through the vending machines and later sold on Snap's official website. The glasses product from Snap has attracted long lines. Snap even opened a retail location in New York City during the whole holiday shopping season.