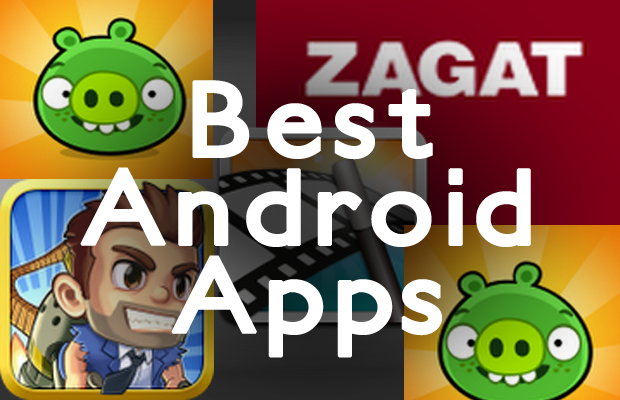 Guys we are here to let you guys know what's trending in Google Play Store. So here we are with Best 5 Android Apps. Last month October we saw several new apps trending on the top of Google Play Store. Let's start with Top Most Android App of October 2012.
Zagat

It provides perfect place for eat out along with 30,000 restaurants in its directory  TO make it special Zagat provides search with 100+ filters, etc. It is optimized for 10 inch and 7 inch Tablets also. Here are its more features described:
Find the perfect restaurant
Reserve a table
Be a critic–your quote could be printed in our next restaurant guidebook
Download Now From Play Store
Magisto

Guys want to build awesome video from your android phone than this app is much required to you. Magisto alows you to shoot, send view video. In detail first shoot videos from your phone and than upload them via Magisto, then you need to add soundtrack and title and than all videos will be converted into one video with effects. So without any video editing knowledge you can edit your videos. Guys if you haven't tried it yet than you must. Here are more features:
Easily share to Facebook, Twitter, Email and even YouTube
Automatic video stabilization, filters, effects and transitions
Facial recognition detects the important people in your videos
Upload videos from your Gallery or use Magisto as a smart video camera
Access your movies from any device
Download From Play Store
Smurfs' Village

Smurf's Village is village building game, which allows you to build new village to call Smurfs home.  To do so, you can control well known characters and resolve some quests. Some more features are listed below:
Play with your favorite Smurfs including Papa Smurf, Smurfette, Lazy Smurf, Baby Smurf, Handy Smurf and Jokey Smurf
Purchase Smurfberries via in-app purchase to speed up the growth of your crops and village.
Play mini games like Greedy Smurf's Baking Game and Papa Smurf's Potion Mixing Game
Connect with friends through Facebook and send gifts to your friends' villages
Play offline… manage your village anytime without having to connect to the internet.
Download From Play Store
Bad Piggies

Another game from Popular App maker Rovio. In this game you need to control the pigs, building devices that travel on land and air to find pieces of a map to find the Angry Birds eggs. The game itself is a fair combination of Rovio's previous effort Amazing Alex with some arcade physics thrown in and casual-ifield. Some more features:
87 levels crammed with flying/driving/crashing fun
18 additional levels unlocked by getting three stars
4 sandbox levels to stretch your creativity
Ultra-special, ultra-secret, ultra-difficult sandbox level to unlock by collecting all the skulls
33 objects to create the ultimate machine: motors, wings, fans, bottle rockets, umbrellas, balloons, and much more
Download From Play Store
Jetpack Joyride

After its success on iOS it finally landed on Android last month. This game has excitement embedded into its every frame where you will be tested with your reflexes and the ability to judge in quick succession. This game has won various awards for runner up game of the year for iOS.
Download From Play Store